Happy Thursday Everyone! Just in case you missed my guest post over at
The Grant Life
last week, here it is. I made the following dips for the New Year's party we went to and they were both a huge hit!
Seven Layer Mexican Dip
The first dip is from
The Girl Who Ate Everything
. It's your pretty standard seven layer Mexican dip, but she served them in individual cups for a party - brilliant! Perfect for serving at a party, plus, no serving dishes to clean after everyone is done.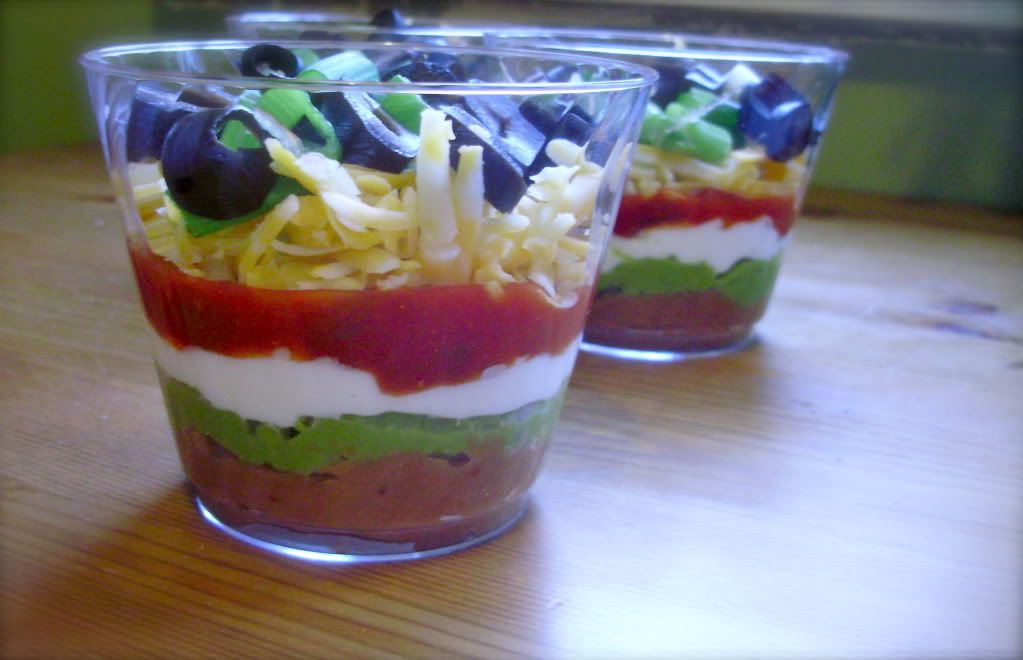 Here's what you need:
1 (16 ounce) can refried beans
1 (1 ounce) package taco seasoning (I used a southwest seasoning packet instead)
1 cup guacamole
1 (8 ounce) container sour cream
1 cup chunky salsa or pico de gallo
1 cup shredded cheese
1/2 bunch of green onions, sliced
1 (2.25 ounce) can of sliced olives, drained
9 ounce plastic tumblers
tortilla chips
The measurements are approximate, and I definitely didn't follow them closely. Add the seasoning to either the refried beans or the sour cream and then layer the ingredients. Finish them off by sticking a chip in the top! Yum!
Barbeque Chicken Dip
I adapted this dip from a recipe I found on
CDKitchen
. I was looking for a dip that would be quick and easy to make, that I already had the ingredients for. I had most of the ingredients that the original recipe called for and then I tweaked it some for my own tastes. This dip got served in individual cups as well.
Here's what I used for this one:
1 (10 ounce) can chopped chicken
1/4 cup green onions, chopped
4 slices

cooked bacon, chopped
1/4 cup
mayonnaise -- plus
2 tablespoons
mayonnaise
2 or 3 tablespoons
barbecue sauce
(I suggest Sweet Baby Ray's, Hickory & Brown Sugar)
1 clementine, juiced
Top with green onions
The original recipe called for way fewer onions and some lemon juice, but I love onions so I went a little crazy. I also didn't have any lemon juice, but I did have clementines, so I just added that for the citrus taste. This dip is so good! Handy Andy loved this dip and was asking for leftovers the next day.
*Special piece of advice -- I used my mini chopper to finely chop all of the ingredients that needed it. I love my mini chopper! I got it on Black Friday for $3 and it was the best purchase I made. It's way better than pulling out my big processor and it cleans up so easy! (I was not paid to say any of this by the way, I just love it!)
That's it! I hope you found this helpful and that you try these individual servings for your next party!
Also, I'm super close to 100 followers, and I have a few awesome giveaways lined up for you once I hit that mark! So get your friends to follow along! :)
Linking up here today: